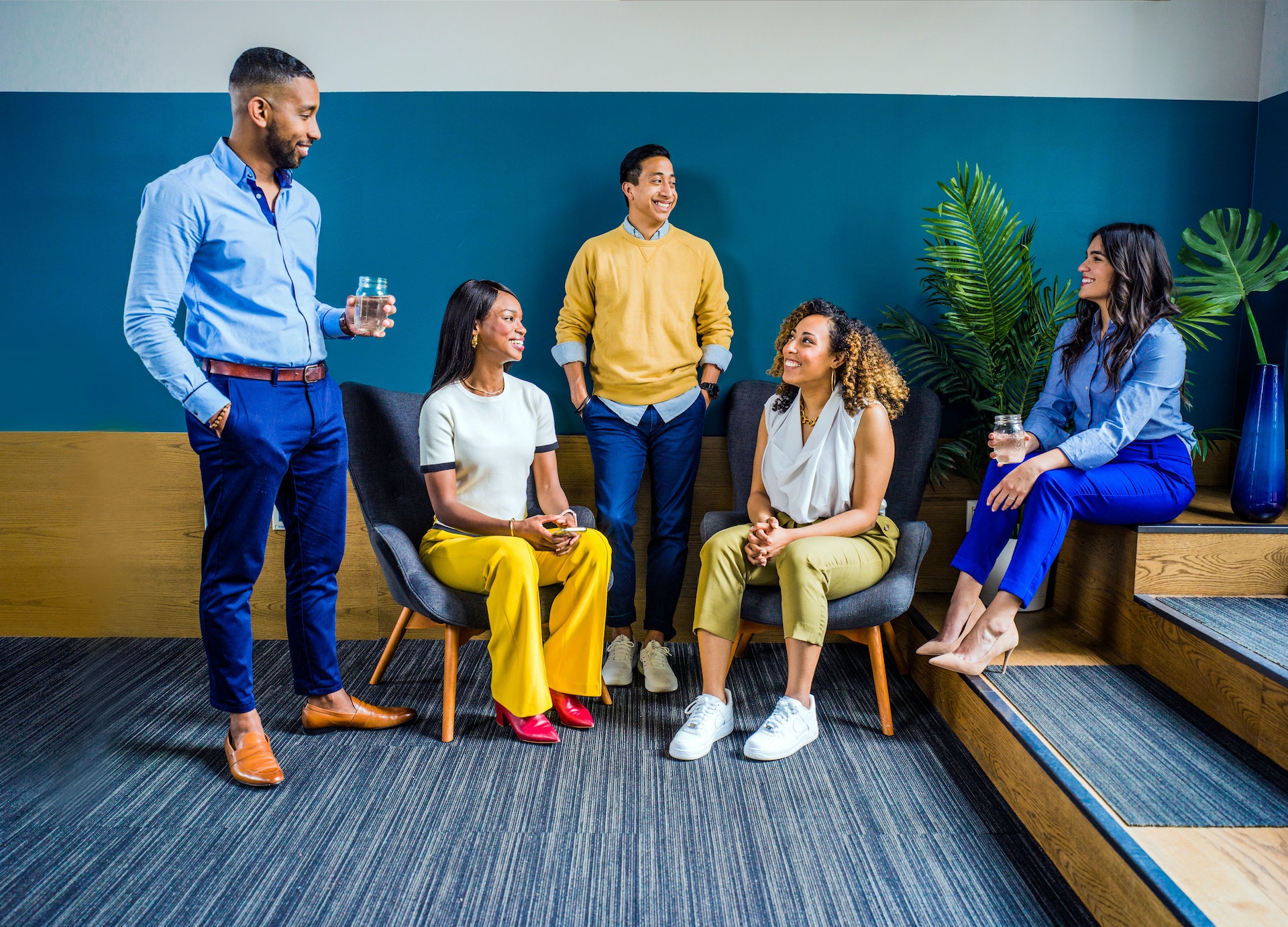 For Individuals
LGBTQ+ Groups in Lancashire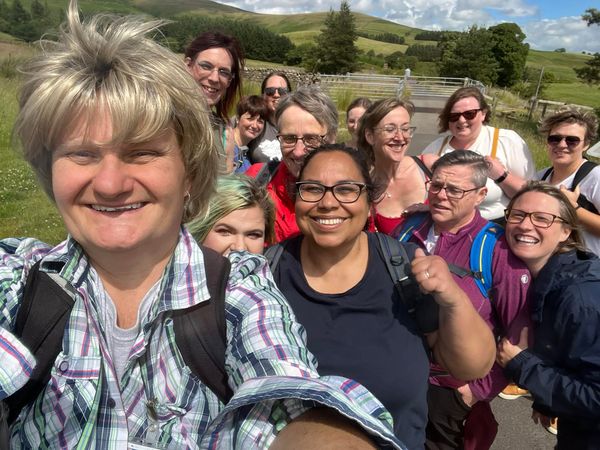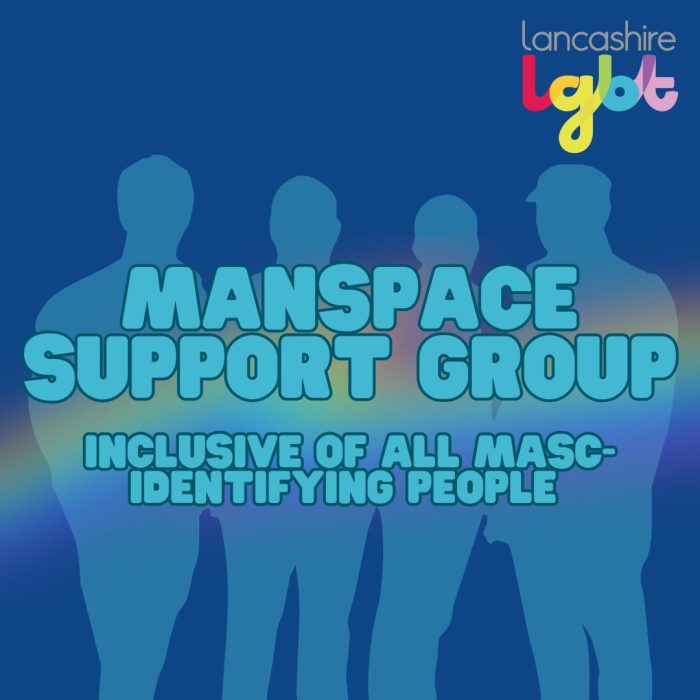 Manspace is a Lancashire LGBT support group for gay, bisexual, trans and queer men (including masc identifying non-binary people) aged 18 upwards. This group runs twice a month, online and face to face. You can register to join the group here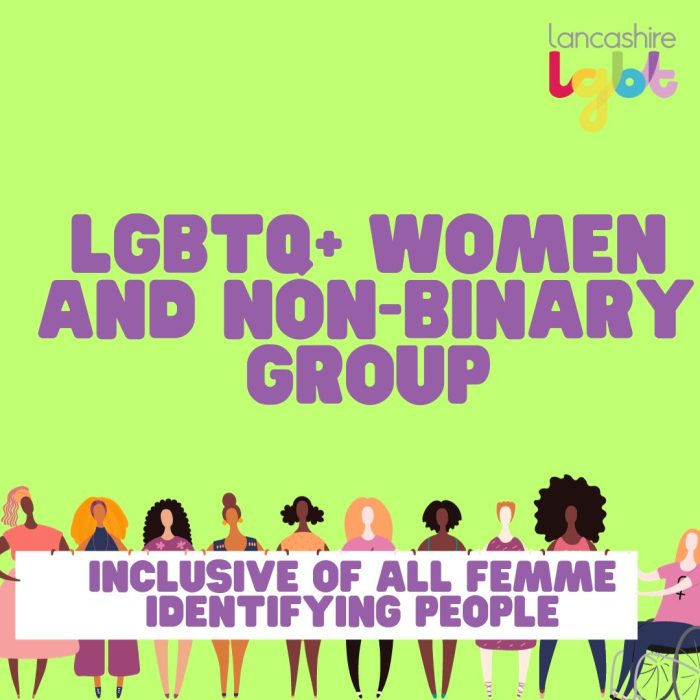 LGBTQ+ Women and Non-Binary group is a Lancashire LGBT support group for gay, bisexual, trans and queer women (including femme identifying non-binary people) aged 18 upwards. This group runs twice a month online. You can register to join the group here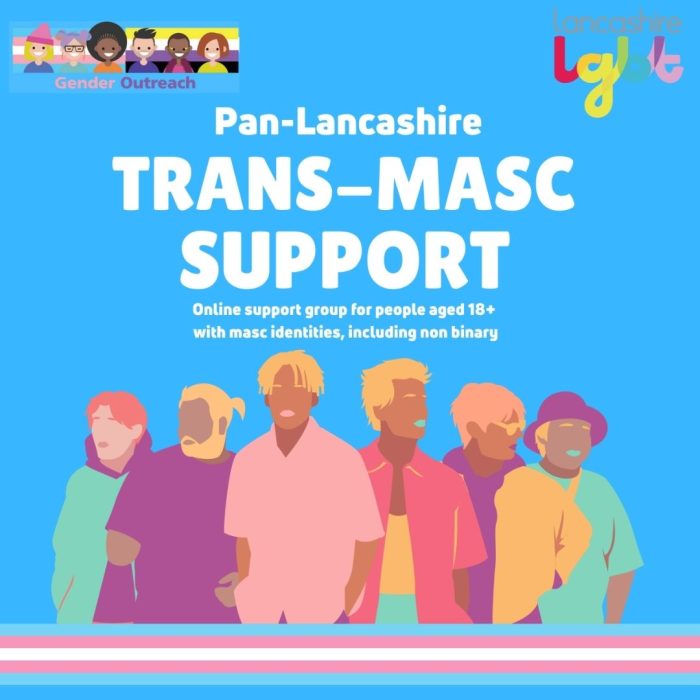 Trans-Masc support group is a Lancashire LGBT support group for any trans and non-binary masc presenting person aged 18 upwards. It is run by Gender Outreach worker Brad. This group runs once a month online. You can register to join the group here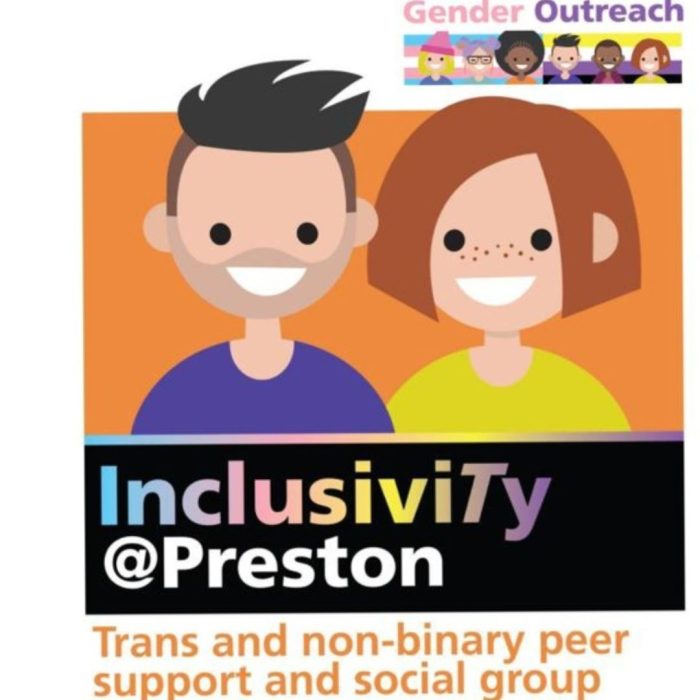 Inclusivity @ Preston is a trans and non-binary peer support and social group that meets at the Harrington Building at UCLan, on the last Wednesday of every month from 6pm-8pm. It is run by Gender Outreach workers Jenny and Brad. To join the group, and for more information on the location, please call 0800 183 1486.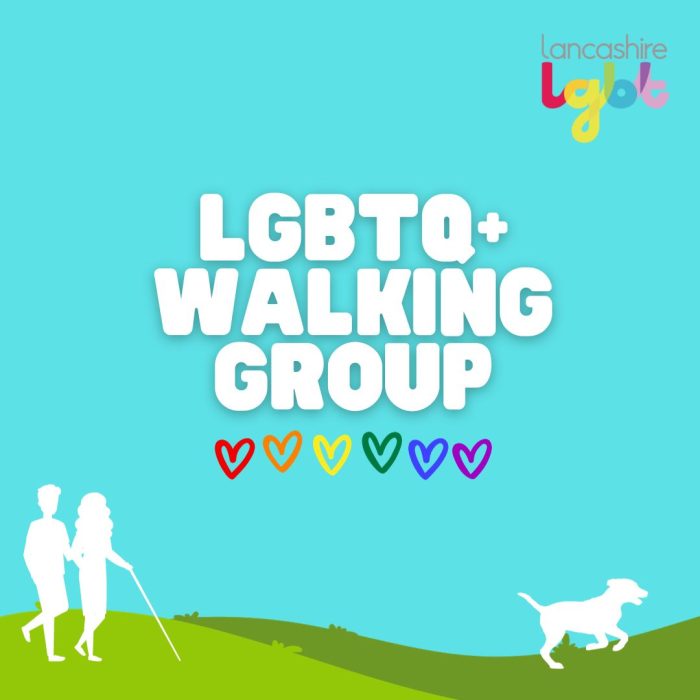 LGBTQ+ walking group is a Lancashire LGBT activity group open to all LGBTQ+ people, and their friends or family. Walks are of medium length (5-7 miles). There is no sign up for this group but you will be asked for details on the day. For more information contact Lancashire LGBT on 07788 295521 or email hello@lancslgbt.org.uk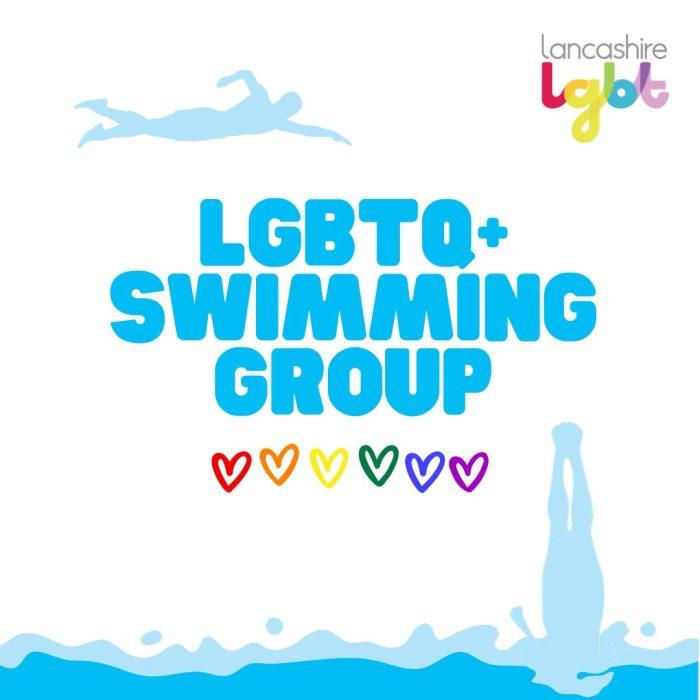 LGBT swimming group is an activity group supported by Lancashire LGBT that meets on the last Thursday of the month at a swimming pool in Blackpool, where we have sole use of the pool from 8.30-9.30pm. Our qualified swimming coach Michelle facilitates the group and can help you improve your technique or even learn to swim. You need to first register for the group here and then each month when bookings are open you can book a place on that month's session by emailing hello@lancslgbt.org.uk or telephoning us on 07788 295521.
Groups Across Lancashire
Blackburn
Rainbow Cafe Weekly drop in (Wednesday afternoon 1pm – 3pm) at the Geek Retreat, 50 – 54 Church St, Ewood, Blackburn BB1 5AL, for members of the LGBTQ+ community with disabilities. Somewhere to have a brew and a chat, make new friends, and learn new skills. For information please email donna.talbot@communitycvs.org.uk or telephone 01254 583957.
Rainbow Youth Centre Phone 01254 720740 or email office@theryc.org.uk.
Blackpool
A) Groups available from HORIZON LGBTQ PLUS in Blackpool:
Blackpool Allies – A social group for anyone who identifies as LGB or T, variations thereof, and their supporters. You don't have to identify as LGB or T to be an Ally. 1st and 3rd Tuesday of the month 6pm-8pm, at Horizon, 102 Dickson Road, Blackpool. For more details or to express interest in attending, call 01253 311431 or email vsteeden@ren-uk.com.
Lancashire Lads – A support group exclusively for Trans Males in Blackpool
Meets on the 2nd Tuesday of every month at Horizon, 102 Dickson Rd, Blackpool, from 6:00-8:00pm. For more details or to express interest in attending, call 01253 311431 or email vsteeden@ren-uk.com.
TransInclusion : A Peer led Trans Female and feminine gender diverse group – Once a month on a Tuesday. For more details or to express interest in attending, call 01253 311431 or email vsteeden@ren-uk.com .
For more information about any of these Horizon groups, or to express an interest in attending, please call the Horizon office on 01253 311431 or email vsteeden@ren-uk.com.
B) Other groups in Blackpool:
UR Potential: UR Potential has three groups for LGBTQ+ and non-binary young people in Blackpool, Fylde and Wyre, plus a a Trans-only young people's group and a Family Support group for parents and other family members of LGBTQ+ and non-binary young people . Contact Nina at UR Potential for more details. Email lgbt@urpotential.co.uk or telephone 07445641768.
Liberty Church: An inclusive church that welcomes everyone who celebrates the diversity of Lesbian, Gay, Bisexual and Trans people. Meets Wednesdays and Sundays 6.30pm at St. Paul's Worship Centre, Egerton Road, Blackpool FY1 2NP. For more details, contact Nina or Jim on 07955 597771 or visit www.libertychurchblackpool.org.uk
Renaissance Trans Support Group: Long-established friendly support group for trans people. meeting twice monthly in Blackpool. Wide range of ages and gender identities. For more information, contact Lynda or Petra on 01253 314717, or visit www.gynwayblackpool.com/renaissance_transgender_forum.htm
or https://www.facebook.com/Blackpool-Renaissance-Trans-Support-Group-194379587311631/
Burnley
Burnley (BRF) Club– LGBTQIA+ group for adults (18+). Meets Friday afternoons 3-5pm at "0282" (upstairs at Burnley Central Library). For more information check out The BRF Club on Facebook or send a text to 07803458017.
POUT Burnley LGBT+ Young People's Group (for ages 12-19) Meets Thursday evenings For more information, please email Qadeer.Ahmed@lancashire.gov.uk (tel. 07770 764310).
Chorley
LGBT+ Young People's group– LGBT youth group for young people aged 11 (at high school) – 17 years. Held at Inspire Youth Zone, Chorley and it is by invitation only. Any young people visiting will have to become signed up members of the Youth Zone. This group has temporarily stopped, but will be back up in the near future. Contact: email jennifer.mcgillivray@inspireyouthzone.org.
Fleetwood (Wyre)
Wyre LGBT Youth Group, Wednesdays from 4.30pm – 6.30pm (11-17 section and 18+ section). meets in Fleetwood. For more details please contact lgbt@urpotential.co.uk; or phone Nina on 07445641768 .
Fylde
Lytham Let Live: the Fylde LGBT Friendship group– Meets at the Town House pub, St Anne's Rd W, Lytham Saint Annes FY8 1SB from 10.00am – 12.00 noon, on the 1st Wednesday of the month. Tel. Andrew on 07943 401919. The group is on Twitter at @lythamlet..
Hyndburn
LGBTeens group– Meets in Accrington at New Era complex. For further information please contact daisy.welsh@lancashire.gov.uk or kerry.scrivener@lancashire.gov.uk.
Kendal
LGBTQIA+ Youth Group (ages 13-18): Run by Brathay Trust. Wednesdays from 4pm at the Warehouse, Brewery Arts Centre. For information, email youthmatters@brathay.org.uk or contact support worker Katie on 07483 157826.
Lancaster & Morecambe
Sallies: Lesbian meet-ups at the White Cross pub in Lancaster. If you are new and would like someone to meet you outside they can arrange that. The group meets from 6.30pm till late, come whatever time you like, on 7 nights throughout the year for drinks and chat. Some women eat at the pub and some play pool too. Dates are advertised on the Sallies Facebook page https://m.facebook.com/100063644812176/
Out In The Bay: Runs groups in the Lancaster area including Trans Men's group, Trans Women's group, Family Support group, Craft group and an LGBT coffee afternoon – see the Out in the Bay website www.oitb.co.uk or their Facebook page For more information, contact infoOITB@gmail.com. GROUPS RUN BY OUT IN THE BAY ARE TEMPORARILY ON HOLD, PLEASE WAIT FOR FURTHER UPDATES
PYRO (Proud Youth Are Out): LGBTQ Youth Group for young people aged between 13 and 19. For more details,  email Nicole.Cobb@lancashire.gov.uk or send a text to  07887631335.
Queer by Gum CIC: Lancaster-based queer organisation + creative collective bringing regular clubs, workshops + events to the local LGBTQ+ community in Lancaster. https://linktr.ee/queerbygum
Leyland
POUT LGBT+ Young People's Group (for ages 13-19 years).
For more information, please email rebecca.myers@lancashire.gov.uk.
Nelson (Pendle)
POUT Pendle LGBT+ Young People's Group (for ages 12-19). Meets on Thursday evenings. For more information, please email Mohammed.Arshad@lancashire.gov.uk (tel. 07876 790731) or Aimee.Smith@lancashire.gov.uk (07770 220250).
Ormskirk
Hope St LGBTQIA+ Young People's Support Session A safe space for LGBTQIA+ young people aged 14-19 to meet and engage in a range of activities. Friends and parents also welcome. Contact: letstalk@hopest.org.uk
Preston
BREAD LGBTQ+ Young People's Group (12-19) This group meets on Tuesday evenings. For further information please email PrestonTYS@lancashire.gov.uk.
LGBTQ+ Social Group (over-18s) This is a group which has weekly meetups at venues around Preston. For up-to-date information and to see their schedule of regular events, please join the relevant private Facebook group at https://www.facebook.com/groups/259805954645497/
Rainbow Lancashire (over 18s) A social group that for LGBTQ+ people in Preston. Facebook group link: https://www.facebook.com/groups/3987052461368435
Typhoons RUFC Lancashire's first inclusive rugby club. All abilities, shapes, sizes and sexualities welcome. No previous experience required!
Thursday 8pm-9pm – Typhoons RUFC Rugby Union Training
Friday 7pm-8pm – Typhoons RUFC Touch Rugby Training
Plus regular "Turn Up and Try" events.
https://www.facebook.com/LancashireTyphoon
Rossendale
Spectrum Inclusion Rossendale A social group for LGBTQIA+ people, and allies, in Rossendale. To find information about meetups join their group at: https://www.facebook.com/groups/spectruminclusionrossendale
Skelmersdale
The Skelmersdale LGBTQ Facebook page is still being maintained although the group no longer meets regularly.