LGBT+ organisations and our allies across the country are united in saying enough! We cannot allow our communities, particularly our Trans and Intersex communities, to be attacked in such inhumane and degrading ways as we have seen during the Conservative Party Conference over the last week.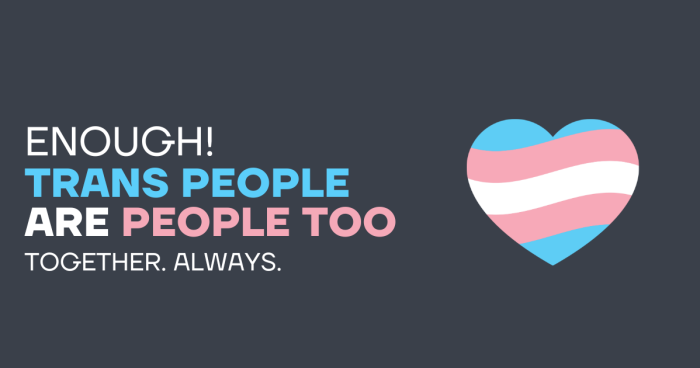 Rather than focusing on pressing issues affecting everyone, such as the cost of living, the climate crisis or getting timely healthcare, senior Government ministers, including the Prime Minister, sought to denigrate Trans and Intersex people, and increase the barriers they already face to accessing essential services and support. We are deeply concerned at the nature and tone of these remarks and policies.
Everyone has a right to live with dignity, free from discrimination and abuse, and to play an integral part in their local communities. That is the principle behind the Equality Act, which up until now has been supported by all parties. Government's responsibility is to all its citizens and it should be working to proactively tackle life-limiting inequalities so that Trans people are safe to live their lives, respected and valued in society, and supported to thrive in what they do.
However, Trans and Intersex people and communities are being let down by a Government that wants to deny their existence and their safety.
For far too long now, we have seen Trans people and communities used in a culture war, mocked by those who are in positions of power, and inaccurately portrayed as a threat to others. People who support Trans people as friends, colleagues and family members are called 'bullies', and those questioning the Government's new narrative in this area are removed from conversations. Announcements like the exclusion of Trans men and women from single-sex wards are made despite the NHS reporting no evidence of abuse by Trans people, and quite possibly with no consultation with those involved in providing or receiving those services. This suggests to the wider public that it is legitimate and appropriate to undertake harassment of Trans people and communities.
We call upon LGBT+ people, friends, allies, family members, businesses and voluntary sector organisations to stand up and say enough. Enough of erasing and attacking some of the most marginalised people and communities in our society, and putting the health, safety and lives of Trans people at risk. Trans people, and all LGBT+ people, are an asset to our country. Reducing inequalities should be our collective goal. If the Government can target one group of innocent people, and block them from necessary services, then it can do the same to anyone else.