May
27
Mon
Fylde LGBT Young People's Group

@ St Annes location - details on request
May 27 @ 4:00 pm – 6:00 pm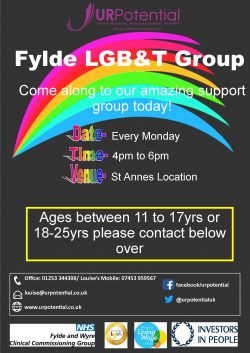 Lancaster Coffee Afternoon – Out in the Bay

@ The Dukes
May 27 @ 4:00 pm – 6:00 pm
Fylde LGB&T Family Support Group – St Annes

@ St Annes - details on request
May 27 @ 6:00 pm – 7:30 pm
A safe environment in which family members of lesbian, gay, bisexual and trans young people can meet together, share experiences and find peer support. To join, please contact Louise at UR Potential.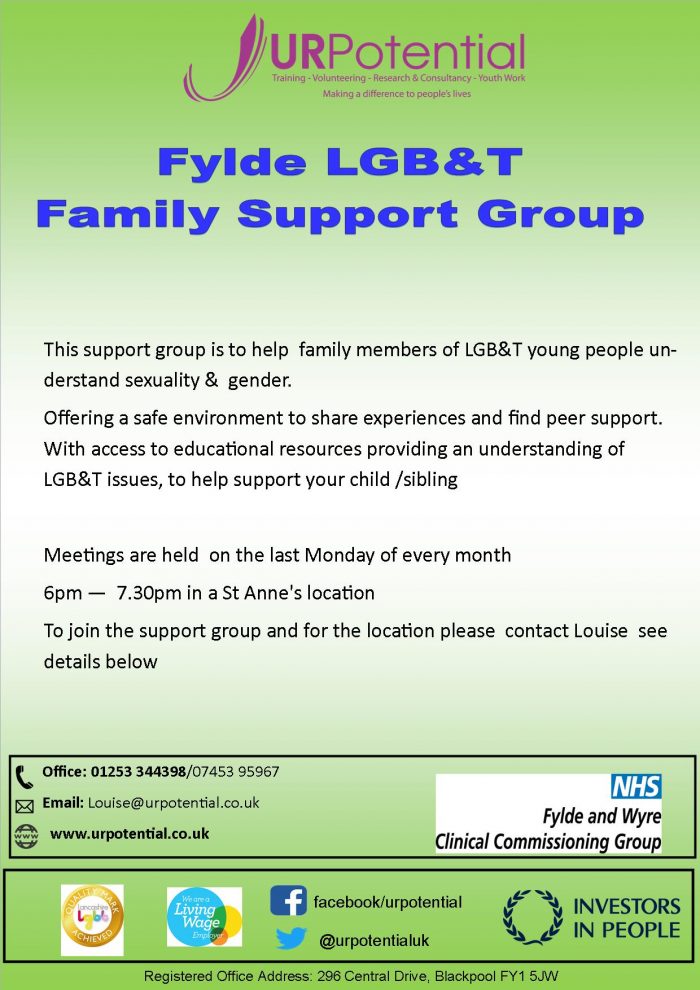 May
28
Tue
PYRO Lancaster young people's group
May 28 @ 5:00 pm – 7:30 pm
M2M Sexual Health Clinic Blackpool

@ Horizon
May 28 @ 5:30 pm – 8:00 pm
HORIZON LGB&T, 102 Dickson Road, Blackpool, hold an exclusive sexual health clinic for men who have sex with men. The clinic is held from 5.30pm until 8pm every Tuesday (except public holidays), or by appointment at any other time, Monday to Friday. To make an appointment call 01253 311431, or Drop in on a Tuesday evening where no appointment is required.
The clinic is a drop in service for both cisgender and transgender men who have sex with men, over the age of 18. Facilitated by Sexual Health Practitioners from HORIZON under the guidance of Blackpool Sexual Health Services
Attendees at the clinic will receive a non-invasive sexual health screen to test for prolific Sexually Transmitted Infections and Blood Born Viruses.
The clinic adopts a non-invasive testing procedure and therefore attendees will only be completing urine testing, Throat Swab** and Finger Prick blood test.
Some results are available instantly, with others supplied by Blackpool Sexual health Services within 14 days.
**In some cases clients will be asked to self-swab
Benefits from the M2M Clinic:
Out of hours service
Discreet and confidential
Non Evasive Screening
Testing for Chlamydia
Testing for Gonorrhoea
Instant result HIV Testing
Instant Result Syphilis Testing
Post and Pre-test counselling
Instant access into sexual health support
FREE Condoms and Lube
Advice on PreP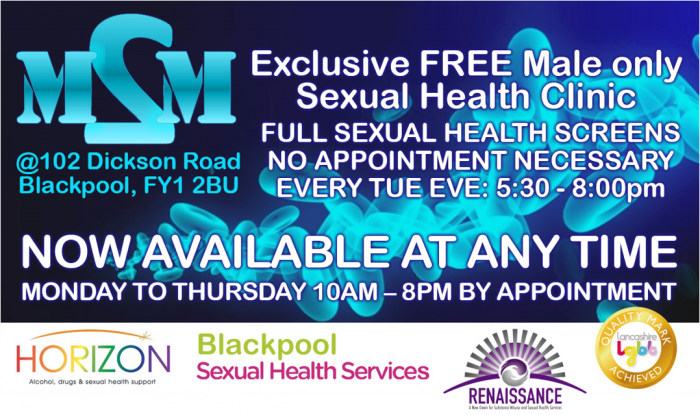 Blackburn Work It Out LGB+T young people's group

@ On request
May 28 @ 6:00 pm – 8:00 pm