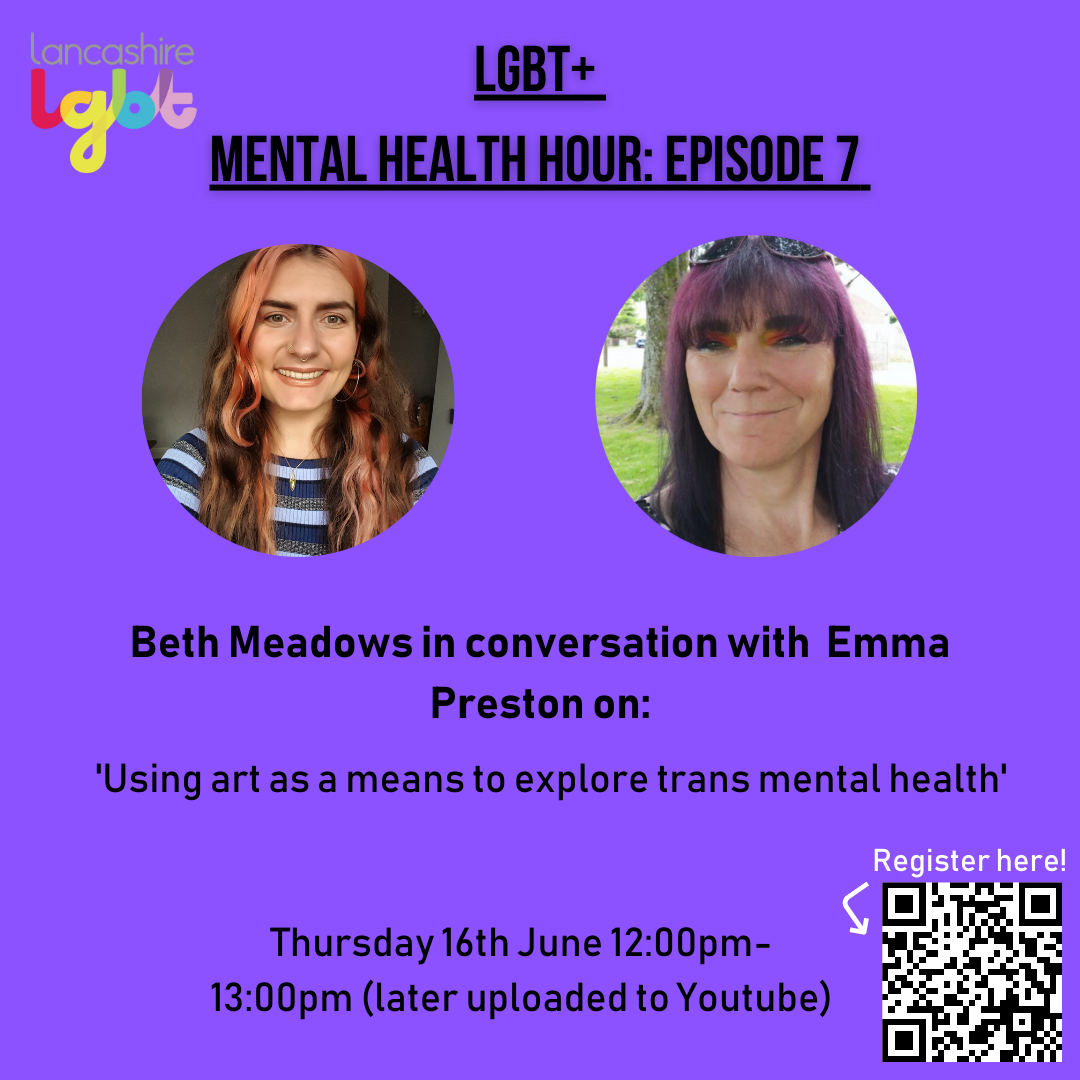 16.6.22, 12:00-13:00pm, Zoom
Join Lancashire LGBT's Community Support Worker Beth Meadows for the 7th episode of the LGBT+ Mental Health Hour, in conversation with Emma Preston entitled 'Using art as a means to explore trans mental health'.
Emma Preston is a creative: an artist, author, public speaker and Television Production UCLAN student from Preston. In 2019 she published her book 'Being Transgender: A personal journey of one life in two worlds' and has recently finished her TV series 'Bit Parts'. She is an active member of the trans community and has been a part of Lancashire LGBT's LBT+ Women and Non-Binary Peer Support Group since it began in March 2021.
Emma will discuss her personal journey as a trans woman, how she has navigated mental health and the support available, and significantly, how important her creative outputs are to her life. As she describes:
"Art is so precious to me. Art lives and breathes inside of me. If I run out of words, I can always turn to art to explain what I mean. Art has a soul and life cycle, sometimes spanning centuries. No doubt most of my art will outlive me by decades if not the odd one or two by a century or so. In a way, art is an extension of my life. It allows me to show others in the future what the past (my present) means (or meant) to me."
Please register to attend and submit a question for Emma: https://www.smartsurvey.co.uk/s/LGBTQMHH7/
A BSL interpreter will be present in the Zoom, as well as closed captioning. The episode will be recorded and later uploaded to Youtube.