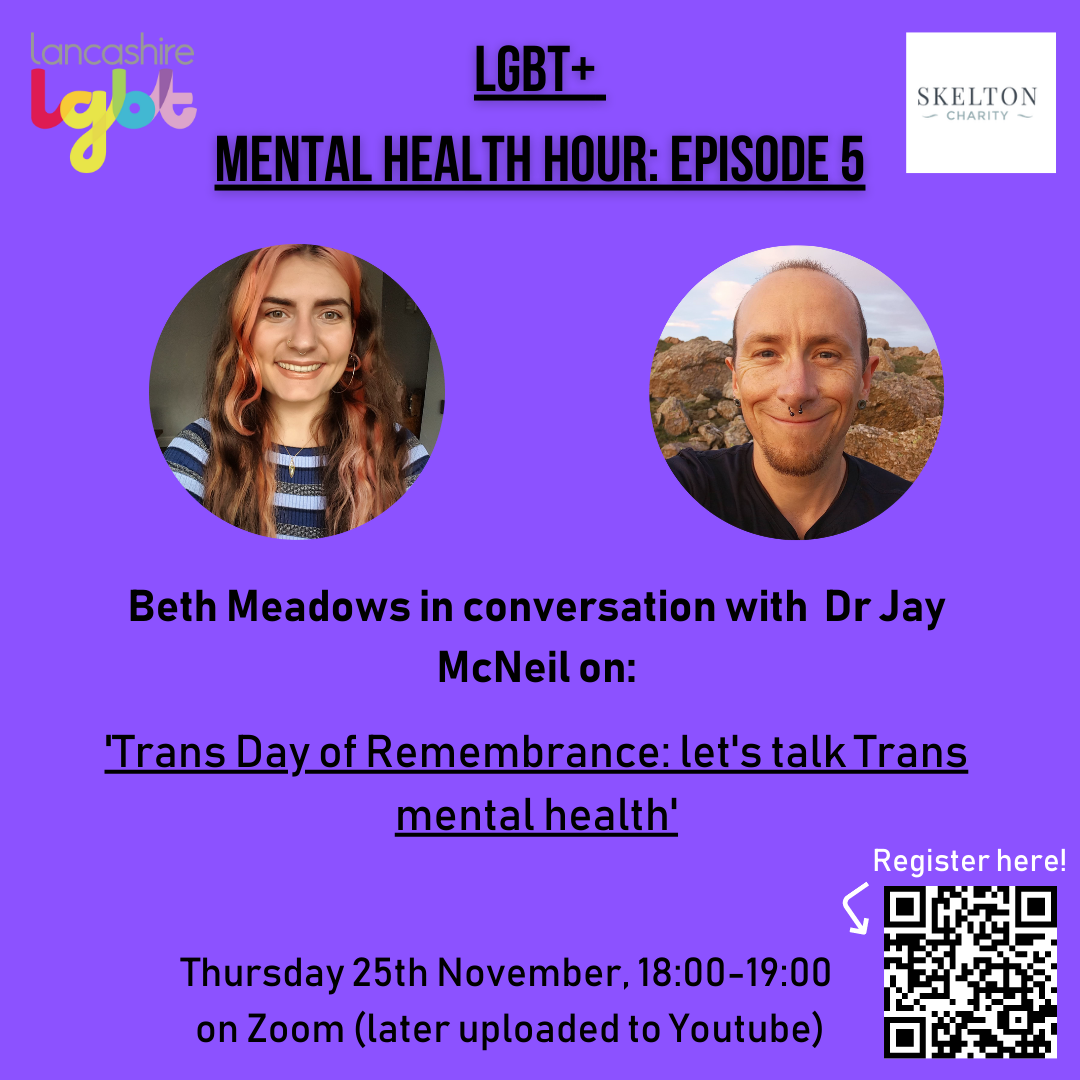 LGBT+ Mental Health Hour Episode 5: 'Trans Day of Remembrance (TDoR): let's talk Trans mental health' 25th November
Lancashire LGBT's Mental Health Hour is back again for episode 5 on Thursday 25th November at 18:00pm-19:00pm, to honour Trans Day of Remembrance 2021. Community Support Worker Beth Meadows will host a conversation with Dr Jay McNeil, Clinical Psychologist and trans rights advocate.
Jay has spent over a decade working for and within trans communities, co-founding TransBareAll in 2009, and then working with other organisations. In 2012 he led the Trans Mental Health study, the first and largest study of trans people's mental health and well-being in the UK at the time. He has delivered training, spoken at conferences nationally and internationally, and produced media concerning trans people's mental health and well-being.
He has published research on suicide in trans people, and on the impact of social factors and transition. He is a Principal Clinical Psychologist working in the NHS and continues to advocate for trans and non-binary people's rights. Being trans is an important part of his identity personally and professionally, and he uses he/him pronouns.
Beth and Jay will discuss various aspects of trans mental health, and how he has navigated this personally and professionally. A BSL interpreter will be in the Zoom and subtitles will be included. You can join us live during the event or view it later on YouTube. Please register via the link to attend live, and submit any questions you have for our guests: https://www.smartsurvey.co.uk/s/4QYRJ7/