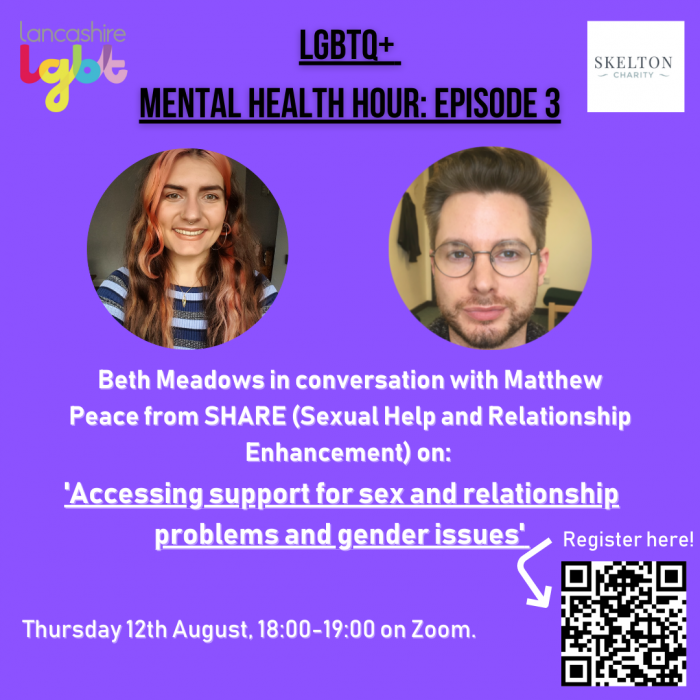 The next in our series of series of Mental Health webinars will feature Matthew Peace from SHARE (Sexual Health & Relationship Enhancement), an NHS psychosexual service in Lancashire.
Our support worker Beth Meadows will host this conversation on the theme of 'Accessing support for sex and relationship problems and gender issues'.
The session will cover a range of issues including: – What is psychosexual therapy? – Navigating sexual relationships pre and post transition. – Asexuality: how relationship needs can be met without sexual attraction.
Matt has been working for SHARE for the past 9 years. He is a Senior Psychosexual Psychotherapist and provides therapy in Accrington, Preston, and Burnley. Therapy is his primary role, but he is also a clinical supervisor. He sometimes supports psychosexual therapy students with their placements, and outside SHARE he does some lecturing on the MSc Psychosexual Therapy course at the University of Central Lancashire.
SHARE works to promote and develop positive psychological sexual health, effective physical sexual function and reproductive ability within the context of the individual and / or the relationship whilst respecting and acknowledging all individuals' sense of self within the relationship. Please come along to the session to learn more about these issues. The episode will be recorded, and later uploaded to our Youtube channel. A BSL interpreter will be present, and automatic captions will be on the Zoom.
You can sign up to the event and submit your questions to Matt via this link: https://www.smartsurvey.co.uk/s/LGBTQMHH1208/