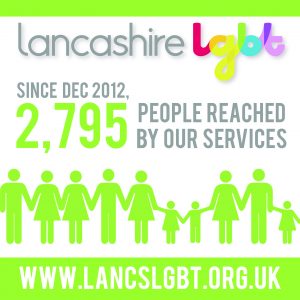 We thought we'd take a look back at what we've done since our paid staff came into post with the beginning of the Isaac Hitchen project in December 2012 through to where we are now, around 9 months into the With Out Barriers project.
The 2,068 people trained in LGB&T issues covers a total of 108 sessions, to 70 different organisations in Lancashire.
The 727 people who accessed information and support by telephone or email covers both direct enquiries from LGB&T people or their family members (463) and enquiries from professionals and services, who were often themselves supporting an LGB or Trans person at the time and needed advice and information to assist them to do so. Some organisations were asking about LGB&T awareness training, the Quality Mark scheme and similar issues.
The hate crime training was delivered to groups drawn from Lancashire Constabulary, the Crown Prosecution Service and Victim Support.
As word has spread, we have seen an increase in demand for our services but we know there is still plenty to do and we look forward to continuing the work!