Feb
28
Wed
"Reel In The Closet" Film Screening – LGBT History Month 2018

@ Lancaster Library
Feb 28 @ 6:30 pm – 9:00 pm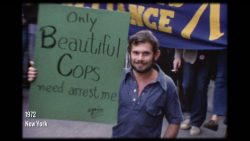 LGBT History Month 2018:
Want to know what it was like to be out in 1940? How it felt to be different in 1960?
Watch the home movies of the people who lived it! Join us for this FREE screening of the fascinating LGBTQ documentary, 'Reel In The Closet'
From the director of the award-winning 'Gen Silent' comes 'Reel In The Closet', a feature-length documentary that lets us connect with LGBTQ people from the past through the rare home movies they left behind for us.
Prior to the screening, there will be a live performance of 'The Room' by local artist, Briggsy. 'The Room' is a visually arresting, poignant and socially relevant piece of physical theatre. 'The Room' was created to explore LGBTQ identities and challenge, head on, the discrimination and hatred directed towards people that are just trying to be the truest version of themselves.
Also featuring creative contribution for PYRO LGBT Youth Group in partnership with Ludus Dance.
For more information, click here
*Please note, 'Reel In The Closet' contains brief scenes of mild nudity and strong language